Explore Independent Living at Compass Park
Compass Park is a community where you belong.
Compass Park provides independent living homes and apartments on its 320-acre campus. All have unique amenities and advantages, which we will be happy to explain more fully when you schedule a tour.
Independent-living homes are arrayed on the northern and southern ends of our campus. While each has a distinct personality and look, both are ideal places for active residents to enjoy the warmth and charm of our historic surroundings. The exterior maintenance of these homes is handled by our talented staff, so residents can use their time and energy to enjoy the numerous amenities nearby.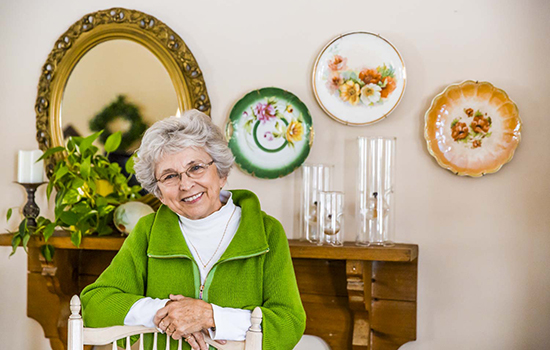 Anchored by the original entrance archway of the Indiana Masonic Home and surrounded by mature trees, the cottages and duplexes in the North Village feature the iconic brickwork of the community's founders. The large front porches, open floor plans and close spacing of houses on the north end of campus help foster the tight-knit friendships enjoyed by residents here.
Features:
2 bedrooms, 1-2 baths
900 to 1,350 square feet
Large one-car garage with opener
Optional covered front porch
Enclosed patio
Each cottage and duplex in the South Village is spacious, unique and appealing. Nestled in the curve of Young's Creek and beside a natural meadow, residents in this portion of the community are immersed in the park-like atmosphere with lighted walking trails and close access to many amenities, including the fitness center and pool.
Features:
2-3 bedrooms, 2 baths
1,300 to 1,700 square feet
Large two-car garage with opener
Walk-in closets
Large yard with room for a garden
Independent Living Apartments
For those looking for a smaller home, Compass Park offers independent-living apartments.
The Garden Homes and Freemason Apartments are single-story buildings that offer the same maintenance-free lifestyle as the cottages and duplexes, but on a more compact scale. In addition, Compass Park offers independent-living apartments at Ball Brothers and the Main Building, which have convenient indoor access to the historic Ransford chapel and the pool and fitness amenities at the Community and Event Center.
Located in the South Village, the Garden Homes are right next to the new Community and Event Center and the Assisted Living building. Because they are at the hub of the entire community, residents of these unique homes have easy access to the campus restaurants as well as the fitness center and pool.
Features:
2 bedrooms, 2 baths
1,200 square feet
Covered parking for two vehicles
Room for a garden
Originally home to the historic Freemason Print Shop, this distinctive building has been renovated and developed into apartments with multiple floor plans and options. These conveniently located homes are very close to Kresge Chapel and the Skilled Nursing and Rehabilitation Center, so residents have easy access to health and spiritual services.
Features:
1-2 bedrooms, 2 baths
825 to 1,400 square feet
Storage units
Covered parking for one vehicle
Ball Brothers and Main Building
Housed in what was originally the Indiana Masonic Home and an adjacent dormitory, these historic buildings have been developed into independent-living apartments with multiple floor plans and options. Many of the Main Building apartments overlook the iconic clock tower, fountain, gardens and circle drive of Compass Park. These apartments also have access to the computer lab, library, salon and gift shop.
Features:
Studio, 1-2 bedrooms, 1-2 baths
450 to 1,350 square feet
Kitchenettes
Walk-in closets
Compass Park provides a range of services to help our residents enjoy a carefree lifestyle.